Transport
Our Fleet
Our fleet of 44 tonne vehicles with curtain side trailers can carry a range of consignments including stock, materials, equipment and waste. We also run Flat Trailers & have a Ramp Trailer for something a little special.
Our fleet of vehicles are maintained to the highest standards and use up to the minute technology to track your consignment from pick up to its destination so you can be sure your delivery will arrive safely. Part of our fleet is fitted with detachable Moffet forklifts and others are equipped with tail lifts which give us maximum flexibility for loading and unloading shipments.
Haulage Solutions
We offer 'full load' deliveries of up to 44 tonnes anywhere in the UK and into Europe. We offer time sensitive,   professional service and for smaller deliveries, we can take part loads where you only pay for the space you   use.   The Part Load service allows us to offer you more cost-effective deliveries, with no compromise to our   quality standards.  we group consignments of several different clients together to maximise load size and   minimise cost.
Our friendly logistics team will work with you to organise the most cost effective and timely manner in which   to transport your   consignment. Your delivery will be tracked every step of the way from pick up to final   destination so you can be assured of a first class   service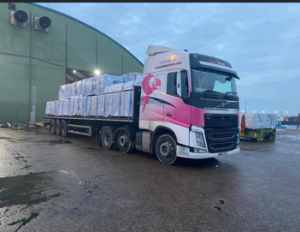 Our experienced drivers are trained to meet current standards in safety and competence and have the     transporting expertise and   resources to provide you with unrivalled professional service.
Pink Parrot Transport…We deliver from Anywhere to Anywhere. Call us for a   competitive quote     on 01773 834952